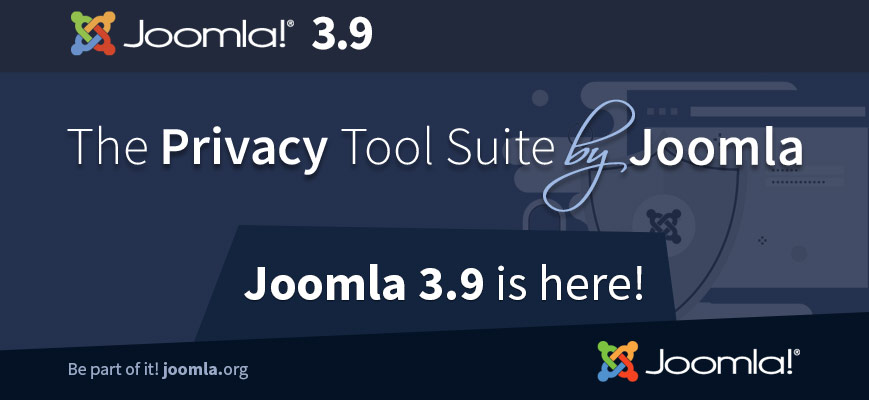 The Joomla! Project is proud to announce the release of Joomla! 3.9, the latest in the 'Joomla! 3' series.
This new release packs in more than 250 improvements for the Joomla CMS – central to which is a full privacy tool suite, which will make site compliance faster and simpler (not to mention the lives of developers a whole lot easier)!
What's new in Joomla 3.9?
Here are just some of the new features …
The Privacy Tool Suite by Joomla
User Consents - Make light work of data privacy requirements
Need users to consent to your privacy policy and/or terms and conditions? With Joomla 3.9, it's all handled automatically. Simply and easily set up your core forms to request consent before collecting any personal data.
You can also set up a time-based privacy consent expiration. The system will let you know if and when you need to contact your users to renew consent.
Track user consents, manage site policy changes and much more besides, all with a glance at your dashboard.


User information requests? Easy-peasy
Track and manage information access or removal requests from your users, seamlessly. Once a request is made, just log in, export their data and/or remove them.
User data removal requests are all handled automatically, with all personal data anonymized without you needing to lift a finger.
Never forget a request again. Just set Joomla 3.9 to remind you.


Extension Capabilities - Put your users in the picture when it comes to privacy...
Extension developer – give your potential users a helping hand, by making it clear what data your extension collects. When you want to report functionality in your extensions that may need privacy consideration, simply use the new Plugin Event (onPrivacyCollectAdminCapabilities).
With this simple action, your users gain a clear understanding of your extension, and whether they'll need to amend their own documentation, such as their privacy policy or terms of service.


User Actions Log - Know who's done what, and when
Want to know what administrative actions have been performed on your site? Thanks to Joomla 3.9, Super Users can easily see which user did what, and when. And it also works with supported extensions! Review the action log, export it and purge the entries. You'll never miss a trick, thanks to the latest actions module that can be added to your control panel.
Need more? Then enable the new log rotation plugin – this will allow you to rotate and remove your log files.
Joomla 3.9 is about more than Privacy
Content management made fast and easy – little features, that make a big difference

Add notes to your articles in the backend, and filter them #19134
A new search feature in the backend: search for a specific article content #20083
Load a module by ID into your article #19362

More flexibility for custom fields with two new options

A repeatable custom field is now available #20243
Create alternative layouts to fit your needs #18571

Most recent frontend changes

Display the intro or full image in your newsflash module #20169
Show only the articles from a specific author in your latest articles module (#20687), and more options!

New features for multilingual sites

A new toolbar button to edit associations #21022
Propagate existing associations #21321
Display your tags per language #19509

Use Google Invisible reCAPTCHA on your websites #18146
Argon2id Password is now supported #20855
Visit the Joomla 3.9 site to learn more about this release and browse the Joomla! 3.9 documentation to discover how to use the new features.
This new release features over 300 improvements, with two primary major features aimed at developers: the new routing system and the beginning of a forward compatibility layer with Joomla! 4.0. Additionally, two security issues have been resolved.