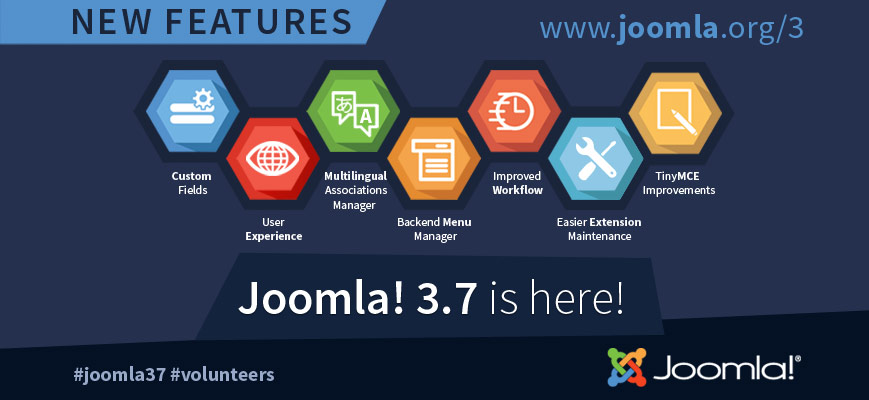 The Joomla! Project is proud to announce the release of Joomla! 3.7, the latest in the 'Joomla! 3' series. This new release features over 700 improvements to the popular CMS, including many features which make administration of Joomla! Web sites easier and more feature-rich, as well as several security updates.
Here are some of the highlighted features:
Custom Fields - use extra fields, including text fields, selects and 13 other field types, in your articles, users and contacts
Multilingual Associations Component - translate your content easily from a single, unified interface
Improved Workflow - create a category, article, and menu item all in one step from within the menu manager
Backend Menu Manager - manage the administrator menu just like the frontend, create a different configuration for each of your backend user groups
Do more with TinyMCE - including new buttons to easily add menu links and contacts and many other improvements
Easier Extension Maintenance - prevent administrators from accidentally uninstalling needed extension package elements
User Experience - the little changes that make all the difference: your User Experience is improved thanks to the display of your global settings, a flatter backend template, the possibility to share sessions between apps...
There are many features to explore and we will be revisiting our components to ensure that they continue to work fine with this new Joomla release!
The future of Joomla 3 and Joomla 4
The current plan is that the next release, Joomla 3.8, will be the last in the Joomla 3 series. According to feedback from the Joomla developers, we could expect Joomla 4.0 to arrive around six months after Joomla 3.8. We do note however that there are still regerences to Joomla 3.9 upon the Joomla web site.